Custom Security Tape
Security tapes are used to secure shipping cartons, pallets, wooden crates, envelopes, bags, and other containers. In addition to self-destructing, the tape will leave a release pattern on the the container surface and in the tape after application and removal.
Customized tamper evident tape offers increased security. We can customize all aspects of the tape, including colors, graphics, serial numbers, hidden tamper evident patter, width, roll length, and more.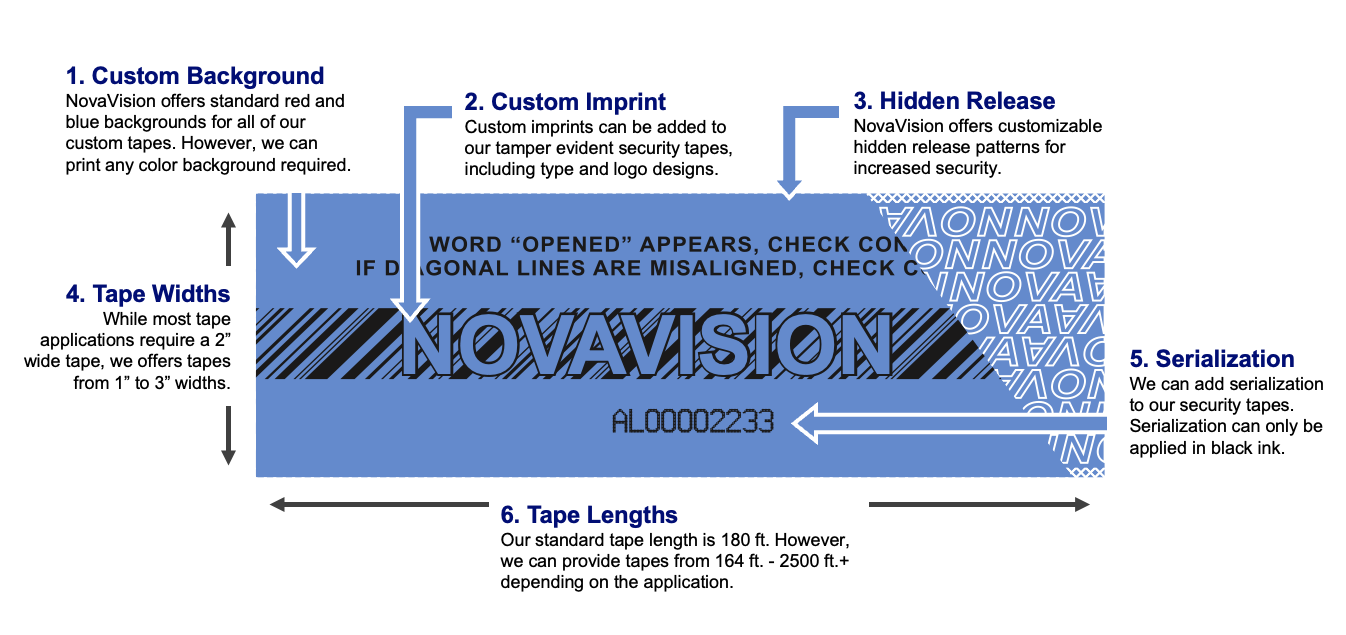 Multiple Security Features
In addition to the tamper evident feature, you can choose tapes with additional security features. Choose the features that are important to your application:
Protect your product packages
Protect your pallets
Combat tampering or pilfering
The table below details how to calculate the cost of your custom security tape order.
Custom Tamper Evident Tape
Designing custom tamper evident tape requires the matching of custom plates. The fee for manufacturing these plates is billed on the first order. Subsequent orders will not incur this first-time printing charge.
For custom orders, we will mail tape samples in order to best meet your tape application requirements.
Below prices are for our tamper evident tapes configured at 180 foot rolls with a 2 inch width.
| Customization Options | Quantity: 80 | Quantity: 120 |
| --- | --- | --- |
| Custom Plate(s) — One Time Fee | $100/plate | $100/plate |
| Custom Red or Blue Tape with Black Imprint | $32.75 | $31.25 |
| Premium Tape Upcharge | +$1.00/roll | +$1.00/roll |
| Serialized | +$2.70/roll | +$2.70/roll |
| Custom Background Color | +$2.50/roll | +$2.50/roll |
| Each Additional Imprint Color | +$2.50/roll | +$2.50/roll |
| Custom Hidden Residue Pattern | +$2.50/roll | +$2.50/roll |
Higher volume discounts are available.
Please call for more details.
NovaVision can create custom tapes from 1 inch to 3 inches in width, as well as varying lengths depending on your needs. Some imprints may incur additional fees.
Before Tampering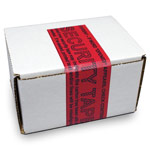 After Tampering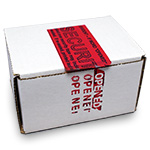 Choosing Your Security Tape
Features & Benefits
Troubleshooting Guide
Warning to Counterfeiters
Can't Find What You're Looking For? Try our Application Search
For Questions and Ordering Information, Please Contact: