Standard Security Tape: Hot Melt Adhesive
Product Overview
These tapes are similar to our premium tapes — when removed, both will leave a full adhesive transfer. The standard tapes on this page feature a hot melt rubber adhesive while the premium tapes have a permanent acrylic adhesive. The hot melt adhesive tapes on this page are less expensive but cannot be applied in temperatures under 40°F.
The tamper evidence is designed to function within one minute of application. The tapes perform well on most surfaces, including difficult surfaces such as plastics, recycled cardboard (without tearing the surface), textured finishes, pallets films, boxes with wax coatings, bare wood, and film overwrap on pallets.
All tapes featured on this page are TSA-CCSP compliant.
When tampered, these security tapes transfer all adhesive to the surface. This is not an issue for disposable packaging or containers. If the container will be re-used, cleaning up the adhesive residue will be more difficult and time consuming for some tapes. See the "Ease of Clean Up" recommendations if the container will be re-used.
After removing, since most of adhesive remains on the surface (little to none on the tape film), the tape film cannot be re-used. This provides an added security feature against unauthorized re-use of the tape.
Choosing Your Security Tape
Sealing Disposable Packaging or Reusable Container
When removed, these security tapes transfer all of the adhesive to the surface. For disposable packaging (such as shipping cartons) the amount of adhesive residue left on the surface is usually not an issue. If the container or surface will be re-used, cleaning up the adhesive residue will be more difficult and time consuming for tape with a high residue formula. See the "Ease of Clean Up" recommendations (see below). Consider our partial transfer tapes (PST and EST series), which leave less adhesive residue on the surface.
Multiple Security Features
In addition to the tamper evident feature, you can choose tapes with addtional security features. Choose the features that are important to your application:
Printed Serial Numbers: A unique number improves security. Record the number as needed for added security.
Plain Tape: No obvious signs that the tape is tamper evident minimizes attention to a package during shipping.
Printed Instructions on the Tape: Additional printing can serve as a deterrent to tampering.
Custom Printed Tape: Customizations improve security.
Tape Width: Using 1 inch and 3 inch wide tapes make it easier to detect tampered cartons that are resealed with conventional 2 inch wide tape.
Maximum Compatibility and Versatility
Our PFT and EFT series tapes are suitable for most applications. We recommend testing tape samples in actual conditions before product is ordered. We offer free samples so you can test and verify the selected tape will meet your specific needs.
Surface Compatibility: Based on our lab tests and customer feedback, our tape performs on a wide range of material surfaces including many difficult surfaces such as recycled cardboard (without tearing the surface), pallet films, plastic surfaces and textured surfaces.
Refrigeration and Freezer Applications: Our PFT and EFT tapes require a minimum application temperature of +50F.
Service Temperature: After application, our PFT and EFT tapes are suitable for service temperatures ranging from -40F to +170F.
Perforated Tape: Some tapes are perforated and can be used as individual seals. If you prefer individual security seals, also see our security labels for more options.
Standard Sizes: We have a large selection of 2 in wide tape, the most common size used on shipping cartons. We also have 1 inch wide, 3 inch wide and 4 inch wide tapes.
Thicker Film: Our PFT and EFT tapes are constructed of thicker film (2 mil polyester) than many competitive tapes. The thicker film provides additional strength during shipping and handling.
Pricing: The Standard Hot Melt Tapes (on this page) are medium priced. Our Premium Tapes (PVT/EVT) are about 5% more expensive. Our Economy Tapes are about 25% less expensive.
Roll Length
Stock tapes are offered in lengths of 164, 180, and 250 feet, which will fit a standard tape dispenser. Longer roll lengths save time because of fewer roll changes.
We also offer larger rolls for machine application — up to a maximum of 2000 feet in length for EFT and PFT tapes. We can make any roll length for custom tape. Please call if you have a special roll length requirement.
Rolls over 250 feet in length have splices; the splice includes the tamper evident feature.
Application Rates - Manual and Automated
A typical application rate for tamper evident tape is 12 inches per second, which is usually slower than security packing tape or other standard tapes. Dispensing the tape at faster speeds may cause the hidden message to show before it is affixed onto the surface.
If you are applying tape using an automated tape machine, we recommend testing a sample roll (minimum 180 LF) of EVT/PVT tape before placing an order. Since our tapes are designed to easily show tamper evidence, the rollers on your tape machine may need to be modified to prevent the rollers from triggering the hidden security message (also it is possible that adhesive will accumulate on the rollers which contact the tape adhesive). Please contact us if your machine rolls have these issues and we will provide details on modifying the machine rollers.
Our PVT and EVT tapes are NOT recommended for machine application. If you have an automated tape application, we recommend our Standard Acrylic Tapes (PST or EST) or our Standard Hot Melt Tapes (PFT or EFT).
Tape Conformity to Complex Shapes
Our PFT and EVT tapes on this page are designed for flat surfaces and to be applied around corners, as typically used on a box, crate, envelope, etc. The thicker film used with our PFT and EFT tapes may not be suitable if the tape must conform to surfaces with multiple contours. Narrower tape widths conform better to contoured shapes. If the tape does not conform sufficiently to seal your container, we recommend a tape made of thinner film (see our PST and EST tapes which are made with 1 mil thick film).
Quantity Discounts
We offer pricing discounts for higher quantity orders. For the best value, we recommend purchasing at least 1 year's supply. When stored properly, our tapes have a minimum 2 year shelf life.
Low Minimum Order Quantities for Custom Printed Tape
Custom printed tape offers more security. We offer custom printed tape in low order quantities (minimum 80 rolls, 2 inch x 180 feet with a 10% quantity tolerance). For smaller custom orders of tamper evident tape (less than 80 rolls), please see our Security Tape on a Liner.
Fast and Friendly Customer Service
If you are unsure which tape best fits your needs, please send us an email or give us a call (see the contact info at the bottom of this page).
Features & Benefits
Features
Hidden Message: OPENED (May vary from graphic shown)
Printed Instructions on tape reminds receiver of security features:
"IF WORD 'OPENED' APPEARS, CHECK CONTENTS"
Unique Serial Number
If resealed, printed text and/or diagonal lines may be misaligned
Pre-assigned Serial Number — improves security; for added security record the serial number on the bill of lading.
Diagonal alignment lines (in or around the words SECURITY TAPE) are designed to show misalignment if the carton seal is slit and resealed.
Adhesive residue: Typically 50% or more of the adhesive remains on the surface. Those tapes marked "HIGH RESIDUE" will leave about 90% adhesive residue.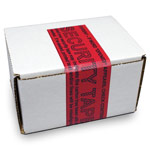 Before Tampering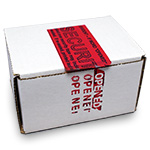 After Tampering
After application, when removed the security tape will self destruct, leaving words or symbols on the package and in the security tape itself.
Benefits
Protects your products and equipment
Controls access to shipping cartons, pallets, and other containers
Indicates tampering or pilfering
Troubleshooting Guide
If the tamper evident feature is not working to your satisfaction, please review the Troubleshooting Guide for suggestions, or give us a call.
Product Configuration
Security Tape — 2 mil Film
Roll Width
Roll Length
Case Qty
Case Size (in)
Case Weight
1 in
200 ft
36 Rolls
14 x 14 x 4
16.5 lbs
2 in
164 ft
36 Rolls
14 x 14 x 8
26 lbs
2 in
180 ft
36 Rolls
14 x 14 x 8
29 lbs
2 in
250 ft
36 Rolls
15 x 15 x 8
38 lbs
Tamper Evident Security Tape (No Perforated Seals)
Standard Tamper Evident Tape, Red, 2 in Wide, Serial Numbered, PFT2R-132B
Standard Tamper Evident Tape, Blue, 2 in Wide, EFT2B-136B
Standard Tamper Evident Tape, Red, 2 in Wide, EFT2R-136B
Standard Tamper Evident Tape, Red, 3 in x 180 ft, EFT3R-136B-180
Standard Tamper Evident Tape, Red, 2 in x 180 ft, PFT2R-136B-180

Standard Tamper Evident Tape, Blue, 2 in x 180 ft, PFT2B-136B-180

Standard Tamper Evident Tape, Blue, 3 in x 250 ft, EFT3B-136B-250

Standard Tamper Evident Tape, Red, 1 in x 200 ft, Serial Numbered, PST-RC-1R-V91
Tamper Evident Security Tape with Perforated Seals
Standard Tamper Evident Tape, Red, 2 in x 180 ft, Perforated (2 x 9 in), Serial Numbered, PST-RC-2R-V90

While Supplies Last
Recommended Surfaces for PFT, EFT, and RC Security Tape:
Corrugated Cardboard
Paperboard Boxes & Envelopes
Envelopes-Kraft Paper & Synthetic Film
Metal - Bare and Painted
Most Smooth Plastics
Wood - Painted and/or Sanded
Most Shrink Film
Most Textured Plastics
Stretch Wrap Film
Bare Wood
High Recycled Content (paper, some paperboard, some corrugated)
Corrugated Cartons with Moisture Resistant Coatings (wax, etc)
Ease of Clean Up:
RC & High Release Formula:Difficult
Recommended Cleaners:
90% Isopropyl Alcohol
Acetone
Citrus Based Household Solvents (Orange-sol, Goo-gone, Etc.)
Film Material

PFT & EFT Tapes: Polyester
RC Tapes: polypropylene

Film Thickness
2 mils (0.002 in)
Ink Colors

Red: PMS 485
Blue: PMS 301
Blue Security, PMS 295C background and border, with white overprint in center which appears gray (similar to PMS 536C)
Red Security, PMS 485C background and border, with white overprint in center which appears pink (similar to PMS 189C)
Brown, printed PMS 133U with overprint which appears medium brown (similar to PMS 7503U)

Film Coating
Silicone Coated
Adhesive Material
Hot Melt Rubber
Adhesive Thickness
1 mil (0.001 inch) thick (typical); Minimum 0.008 in
Adhesive Residue Level
100% -- All the adhesive transfers when removed; Only recommended for disposable packaging.
Core
3 inch Diameter, Compatible with most hand-held dispensers
Minimum Application Temperature
+50°F
Service Temperature Range
-40°F to +170°F
Compliance

ROHS compliant
TSA-CCSP compliant
Custom Printed Tape:
Minimum Order (typical 2 inch x 180 feet) : 80 rolls (order quantity tolerance within 10%)
Ready to Ship: Allow 2 to 3 weeks
Please call for pricing
Can't Find What You're Looking For? Try our Application Search
For Questions and Ordering Information, Please Contact: