Blank Hang Tags
Product Overview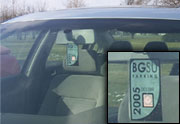 Blank hang tags are used to make your own customized parking permits, which help to control and identify unauthorized vehicles:
Print your own inserts (logo, text, serial number) for maximum affordability.
To combat unauthorized copies, apply a security hologram onto the insert.
Position the printed insert inside the blank hang tag pouch.
Use a heat seal laminator to create a finished hang tag in less than one minute.
Our hang tags are constructed as a lamination pouch with pre-cut notch for affixing to the rear view mirror. Most of our pouches feature a "butterfly" construction (not seamed) with a 'hinge' on one side, which allows for using larger inserts. Each side is 10 mil thick durable heat seal laminate for a total film thickness of 20 mils.
Need help with lamination? Check out our Lamination Tips.
Stock Blank Parking Permit Hang Tags
Blank Parking Permit Hang Tags, 3 in x 4.25 in, Bundle of 100, HT3042

Product Specifications
Overall Size
3 in x 4.25 in - Seamless
Laminate Thickness
0.01 in each side; total 0.02 in
Material
70% Polyester / 30% Adhesive
Printed Insert Max Size
2.75 in x 2.75 in
Shipping

900 or Less: 1 Business Day
1,000 or More: 1 to 2 Weeks

Code: HT3042
Pricing Information
Qty (Tags)
Qty (Bundles)
$/Tag
$/Bundle
Total
100
1
$0.65
$65
$65
500
5
$0.60
$60
$300
1,000
10
$0.55
$55
$550
2,000
20
$0.52
$52
$1,040
5,000
50
Call
Call
Call
Blank Parking Permit Hang Tags, 3 in x 6 in, Bundle of 100, HT3060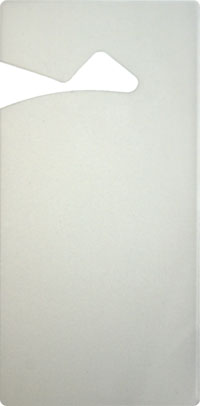 Product Specifications
Overall Size
3 in x 6 in - Seamless
Laminate Thickness
0.01 in each side; total 0.02 in
Material
70% Polyester / 30% Adhesive
Printed Insert Max Size
2.75 in x 4.12 in
Shipping

900 or Less: 1 Business Day
1,000 or More: 1 to 2 Weeks

Code: HT3060
Pricing Information
Qty (Tags)
Qty (Bundles)
$/Tag
$/Bundle
Total
100
1
$0.75
$75
$75
500
5
$0.70
$70
$350
1,000
10
$0.65
$65
$650
2,000
20
$0.62
$62
$1,240
5,000
50
Call
Call
Call
Blank Parking Permit Hang Tags, 4.75 in x 2 in, Bundle of 100, HT4720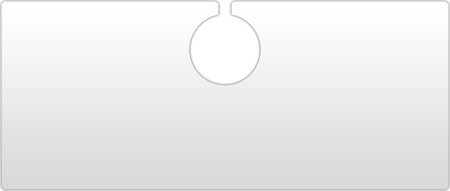 Product Specifications
Overall Size
4.75 in x 2 in - Seamless
Notched Hole Size
0.75 Diameter
Laminate Thickness
0.01 in each side; total 0.02 in
Material
70% Polyester / 30% Adhesive
Printed Insert Max Size
4.25 in x 1 in
Shipping

900 or Less: 1 Business Day
1,000 or More: 1 to 2 Weeks

Code: HT4720
Pricing Information
Qty (Tags)
Qty (Bundles)
$/Tag
$/Bundle
Total
100
1
$0.60
$60
$60
500
5
$0.55
$55
$275
1,000
10
$0.50
$50
$500
2,000
20
$0.48
$48
$960
5,000
50
Call
Call
Call
Typical Applications

Can't Find What You're Looking For? Try our Application Search
For Questions and Ordering Information, Please Contact: