Cable Security Seals
Product Overview
Cable seals are durable and intended for higher security applications. They are available in different cable diameters and lengths for use in different applications.
Our 3.5mm and 5.0mm cable seals are compliant with ISO 17712:2013 and are rated as a high security (H) seals. Authentic NovaVision cable seals have our brand name (NovaVision™) etched on the locking housing.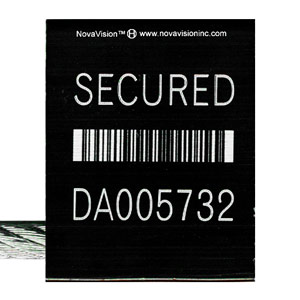 We offer both stock and custom imprinted cable seals.
Choosing A Cable Seal
Indoor / Outdoor Use
Our standard seals have galvanized cables, which are suitable for outdoor applications up to 3 months. If your seal will be used in an outdoor environment for more than 3 months, we suggest you consider our seals with stainless steel wire, which are also available in stock and custom designs.
Increase Productivity
Some seals have bar codes for added convenience in recording the serial number. Bar codes improve productivity and accuracy for larger projects.
Ensure Application Compatibility
If threading the cable through a hole, allow at least 10% clearance for cable thickness variation. For example, for a 1.5 mm cable, the hole size must be a minimum of 1.65 mm diameter. Inadequate clearance may cause the cable ends to unravel, which will then interfere with inserting the cable into the locking mechanism.
The usable cable length for locking is typically 2 inches shorter than the actual cable length because the cable is tapered.
Pricing Considerations
Shorter and thinner cables cost less. To reduce cost, use the shortest length and thinnest cables possible while still meeting your security application requirements. Also consider our economy and discontinued product lines at the bottom of this page.
Increased Security
All cable seals have a unique serial number. Record the serial number for added security.
For higher security, use a longer-length cable (36 inch, 54 inch, or 76 inch) to secure both keeper bars together.
Medium length cables (36 inch) are ideal for securing only the locking rods on truck trailers while using another type of seal (or lock) secures the handle latch.
Long length cables (48, 54, and 76 inches) are ideal for securing both the locking rods and the handle latch on truck trailers or shipping containers.
Thicker cables offer more security because they require special cutting tools to remove them.
Cables made of non-preformed steel offer more security. When cut, non-preformed wire will unravel to minimize unauthorized re-use of the cable seal.
Industry Compliance
Shipments which cross international borders usually require a seal that is rated by ISO 17712 as high security.
To qualify as a high security seal and comply with ISO 17712:2013, the cable seal diameter must be a minimum of 3.5mm; this is the minimum cable diameter required to pass the shear test of ISO 17712. Our 3.5mm and 5.0mm cable seals are compliant with ISO 17712:2013 and are rated as a high security (H) seals.
Another requirement for ISO 17712:2013 is that cable seals must be independently tested at least every 24 months. Ask the supplier of your cable seals to provide the manufacturer's written verification the seal was independently tested to comply with ISO 17712:2013 as a HIGH security seal. To meet the ISO standard, the testing and certificate must be dated within 24 months of your purchase. Our certificates are listed in the "Certificate of Conformance" section below.
Also, confirm the manufacturer's name that is etched in the cable seal matches the certification. Authentic NovaVision cable seals are marked with our brand name (NovaVision™).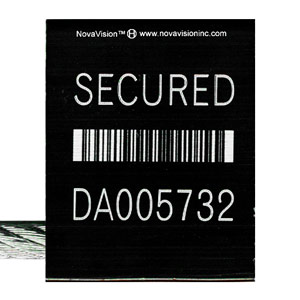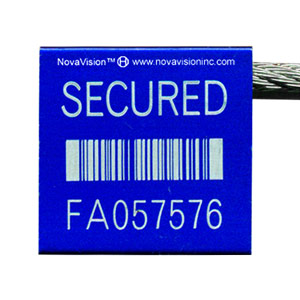 Customize For More Security
In addition to our extensive selection of stock cable seals, we can provide custom cable seals. Custom imprinted seals offer more security. Please Call for more information.
Features & Benefits
Most of our cable seals (1.5 mm diameter and larger) are constructed of galvanized steel aircraft cable, which will unravel upon cutting. This feature minimizes unauthorized reuse of the seal, which might be attempted by re-threading the cut cable into the locking mechanism of an adjustable cable seal.
Our premium cable seals include these added features and benefits:
Improved locking mechanism to combat tampering.
Bar codes (128) that match the unique serial number for improved productivity.
Light-weight (but durable) construction to minimize shipping costs.
Cable seals are also configured as adjustable length or fixed length.
All of our cable seals are manufactured in facilities which are C-TPAT compliant.
Typical Applications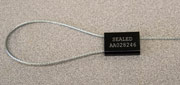 Fixed Length Cable Seals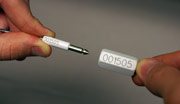 Locking Mechanism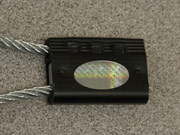 Cable Seal with Optional Hologram
Cargo containers
Truck Trailer Doors
Tanker Trucks
Rail Car Doors
Airline Trolleys
Utility meters and valves
Valves in petrochemical industry
Adjustable Cable Seals
After threading into the locking channel, adjustable length seals can be tightened for a snug fit.
Fixed length seals are secured by inserting the metal pin into the locking chamber. Wrap the cable as needed to minimize slack before locking.
After the locking mechanism is engaged, the cable seal can only be removed with a cable or bolt cutter. Cable seals are a one-time use product.
For added security, an optional custom imprinted hologram label can be added to the cable seal housing. Please Call for more information.
Installing Adjustable Cable Seals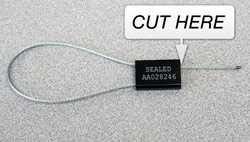 Thread the loose cable end into the locking channel and push through the locking mechanism.
Pull the cable snug to minimize slack.
Pull on the locking mechanism (or reverse pull the threaded cable) to fully engage the lock onto the cable.
For MAXIMUM security, after installing, cut the cable flush with the locking mechanism. The cable will begin to unravel when cut; this minimizes tampering and unauthorized reuse of the seal, since the cable cannot be reused once it starts to unravel.

Installing Fixed Length Cable Seals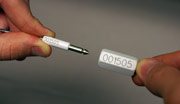 Wrap the cable around locking rods; minimize slack
Push pin into the locking mechanism
Pull on the cable to confirm the locking mechanism is engaged.
Removing Cable Seals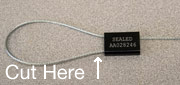 Cut with bolt cutter or wire cutter; wear safety glasses.
As an added precaution against unauthorized re-use, cut the adjustable cable at the fixed end -- not the adjustable end -- when removing.
To prevent re-use, cut the fixed cable end when removing
For fixed length seals, the pin and locking mechanism are permanently sealed to the cable ends. Therefore, the fixed cable can be cut at any point.
Certificate of Conformance
Security Options for Trucks and Containers
Typical Applications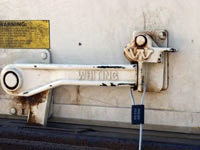 Truck Trailer Seals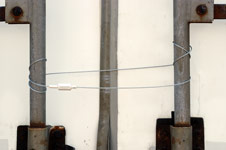 Locking Rods (Keeper Bars) Only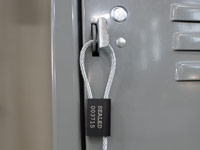 Seal Any Hasp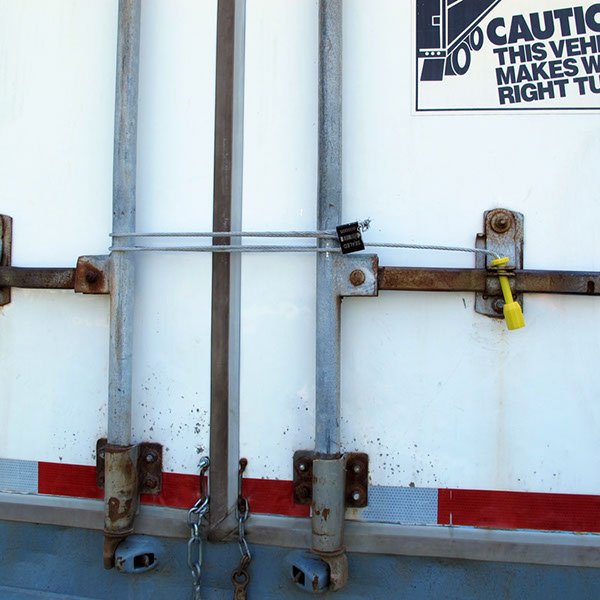 DualGuard for Locking Rods and Handle Latch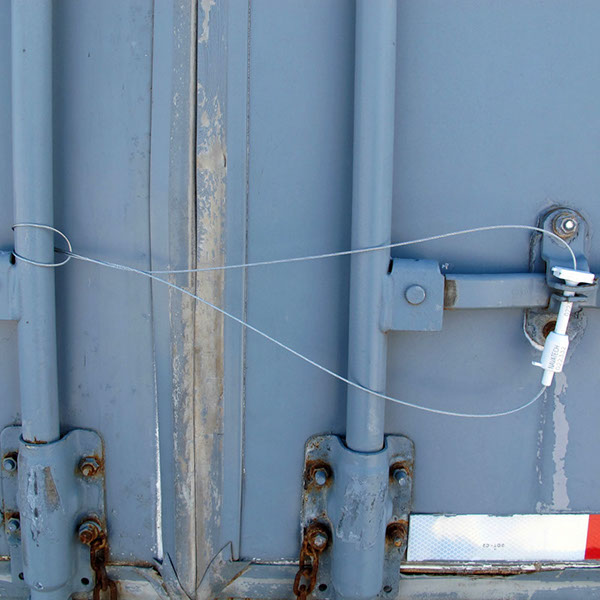 Alternate Navaloop Installation on trailer
Can't Find What You're Looking For? Try our Application Search
For Questions and Ordering Information, Please Contact: