Acetate Security Labels
Product Overview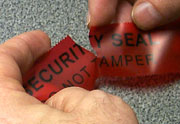 The low price of acetate security seals makes this product one of the most affordable security labels we offer.
Acetate seals are frangible, which means they tear easily when removed. After application, acetate material can be removed, but it is designed to tear into multiple pieces. The serrated edges (a sawtooth pattern) enhance the frangibility and security. Acetate seals are available in stock and custom versions.
Choosing Your Acetate Seal
Acetate products are particularly suited for sealing paper, paperboard, and cardboard -- especially those with low surface strength (where 'fiber pull' may be an issue for other security seals).
Acetate security seal are available in multiple colors -- ideal for color coding containers and contents.
Our acetate security seal in individual pre-cut pieces are convenient and easy to use.
Blank acetate adhesive seals in rolls are one of the lowest priced security seals we offer.
Custom printed seals offer more security.
A holographic acetate seal offers more security.
Acetate seals are primarily intended for indoor applications. However, they can be used outdoors for up to 1 month. For longer outdoor applications, we recommend labels or tape constructed of polyester film.

Learn More
Acetate security labels are often used to detect tampering with various containers or bare metal access panels. Typical applications include sealing paper bags, envelopes, bottles, jars, cartons, bare metal, styrofoam, most packaging materials, some plastic surfaces, etc.
The "broken seal" feature of acetate signals tampering. The self-destruction feature is designed to show signs of tampering, even if removed immediately after application.
Chemical tampering causes the solvent-sensitive inks to dissolve and smear.
The acetate surface is receptive to marking by using ink pen or permanent marker. This allows additional customization of security features such as a hand-written serial number, file number, contents label or personal signature.
Acetate seals are mostly translucent. If applied over hand-written or printed information, the underlying information is still readable and the acetate will protect it from alterations.
When removed, acetate seals do not leave any messy adhesive residue, but the film will break into several pieces.
Clean Up: If applied to a reusable container or surface, use isopropyl alcohol to soak and dissolve the remaining acetate pieces and adhesive.
If applied to unfinished metal, a razor can be used to scrape the remaining pieces, then clean the surface with alcohol.
Specifications and Intended Use
Please see the Specifications and Intended Use for more details.
Troubleshooting Guide
If the tamper evident feature is not working to your satisfaction, please review the Troubleshooting Guide for suggestions, or give us a call.
Product Returns and Claims
See Ordering Info for more details.
Can't Find What You're Looking For? Try our Application Search
For Questions and Ordering Information, Please Contact: