Topp Clips
Product Overview
Thieves can easily access pallets with conventional banding and remove and replace that generic banding with little skill or effort. After the banding is removed, the contents can be removed and/or contraband can be added.
The Topp Clip® system is designed to secure the pallet by indicating tampering or replacement of the original banding. Other applications include banding on other containers such as crates, totes, slip trays, etc.
Once applied, tampering or replacement of the banding is extremely difficult without leaving signs of tampering. The metal Topp Clip is the only crimp for the strapping. The presence of any other banding crimps indicates tampering.
We offer stock and custom versions.
How Does the Topp Clip System Work?
The Topp Clip® system features 3 components, which together provide both a deterrent and evidence of tampering:
Metal Clip for Banding
Plastic Adjustable Seal
Tamper Evident Warning Label
Each component has a unique serial number. The Tamper Evident Warning Label facilitates recording of the component serial numbers atop the pallet.
The metal "Topp Clip" is the key component of the system. The Topp Clip® is the only crimp needed to secure the banding of the pallet seal system. So the presence of any other banding crimps in the seal system indicates tampering.
A visual inspection protocol is essential to achieve the maximum effectiveness.
The shipper should record the serial numbers on the shipping documents.
The receiver should verify the component serial numbers and look for other signs of obvious tampering.
After your cargo reaches its destination, you can use the Topp Clip® protected pallets as a storage security tool to help save time when counting items or when taking physical inventory.
Additionally it deters tampering or theft of pallet contents and also avoids repacking for cross-docked or trans-ship freight.
The Topp Clip® system meets the chain of custody specifications of the TSA for sealing CCSF containers.
For added security (and for larger pallets with multiple banding), use two or more Topp Clip® devices and related banding.
A standard tensioner and crimper tool are needed to apply Topp Clips®.
A special hole punch is required to apply the plastic adjustable seal. This punch can be purchased separately. The punch is also a standard item in the 'starter kit' (TCP-50) along with 50 Topp Clip seals.
If using plastic banding, the standard punch is acceptable. If using metal banding, we recommend the Heavy Duty punch.
Customized Topp Clips provide more security. We can include your custom logo, text, serial numbers, colors, etc.
If your pallet also uses conventional crimped strapping to secure the load, for added security use our pallet labels to secure the crimped seals on the strapping.
Specifications
Topp Clip® Metal Crimping Clip

Material: Galvanized steel
Thickness: .020 inch thick (typical)
Suitable for .50 inch wide strapping
Affixed with red, tamper evident label (VOID OPENED) with serial number

Addjustable Plastic Seal

Material: Polypropylene plastic
Plastic strap dimensions: .10 inch diameter (typical), minimum 5 inch length
Imprint: "Topp Clip" + serial number
Color: Yellow, but may vary

Tamper Evident Warning Label

Film Material: Polyester, minimum .001 inch thick
Tamper Evident Message: VOID OPENED
Size: 3.75 inch x 5.75 inch
Label Color: Red
Imprint Color: Black
Adhesive Material: Permanent Acrylic
Minimum Application Temperature: 45F
Service Temperature (after applied): -40°F to +180°F

Hole Punch (Model: TCP)

Material: Hardened Steel suitable for plastic strapping
Hole Size: 1/8 inch diameter (typical)
Installation Instructions
Tools Needed:
Your strapping tensioner
Your banding crimper
A Special Topp Clip® Punch
Prior to affixing the Topp Clip® seals, prepare the pallet:
As needed to prevent pilfering of one carton from the pallet, use cardboard panels or wood panels on the sides, top and bottom. Other options include shrink wrap, stretch wrap, or a plastic bag
As needed to prevent shifting loads, prepare the pallet with stretch wrap, banding, edge protectors and banding protectors.
Note: Remove the Topp Clip Warning label slowly from the silicone-coated backer material. Removing the label quickly may cause the label to pre-maturely show the hidden VOID message.
See the link below for detailed instructions:
Typical Applications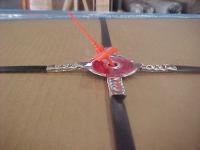 Topp Clip® on Shipping Container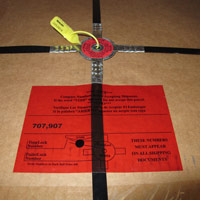 Sealed Shipping Pallet
Stock Topp Clip® Labels and Tools
Stock products are uncustomized and available for immediate shipment. Order by 2pm and your order ships the same day.
Stock Topp Clip® Master Carton, Carton of 200 Seals, ZTC-200-MS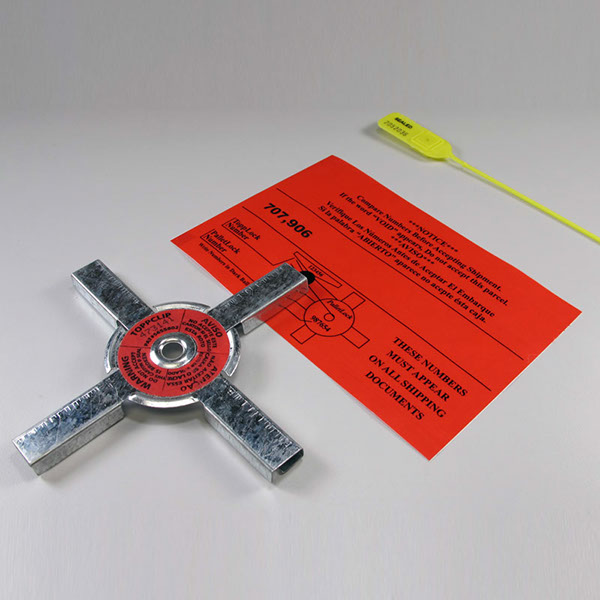 BEST VALUE: The Topp Clip master carton includes 200 pallet seals. As needed, order the hole punch separately (see details below).
The seals have matching serial numbers for the set (Topp Clip, plastic seal, and tamper evident label). If you prefer to have random numbers, simply mix the components.


Code: ZTC-200-MS
Pricing Information
Qty (Seals)
Qty (Cartons)
$/Seal
$/Carton
Total
200
1
$2.725
$545
$545
800
4
$2.60
$520
$2,080
2,000
10
$2.495
$499
$4,990
10,000
50
Call
Call
Call
Carton Weight
16 lbs
Carton Size
12.5 in x 12.5 in x 6 in
Carton Contents

200 Topp Clips®
200 Adjustable Plastic Seals
200 Tamper Evident Warning Labels
Topp Clip® Starter Kit for Plastic or Metal Strapping, Carton of 10 or 50 Seal Sets and 1 Punch, ZTCP-10-MS and ZTCP-50-MS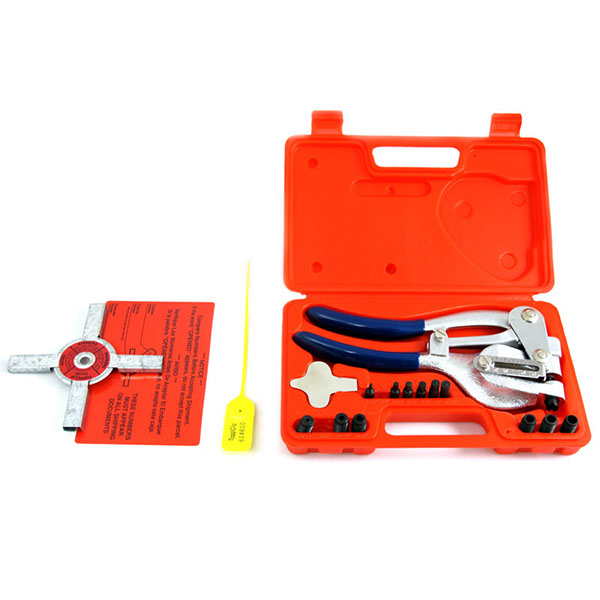 Suitable for use with plastic or metal pallet strapping up to 0.5 inch wide. Includes 10 or 50 matched sets of metal Topp Clipps, labels and plastic seals -- all with matching numbers. Includes 1 heavy duty hole punch (Product Code: TCP-HD1)

Pricing Information
Qty (Seals)
Qty (Cartons)
$/Carton

Code: ZTCP-10-MS
10
1
$125

Code: ZTCP-50-MS
50
1
$275
ZTCP-10-MS
Carton Weight
6 lbs
Carton Contents

1 Topp Clip® Punch (TCP-HD1)
10 Topp Clips®
10 Adjustable Plastic Seals
10 Tamper Evident Warning Labels

ZTCP-50-MS
Carton Weight
6 lbs
Carton Contents

1 Topp Clip® Punch (TCP-HD1)
50 Topp Clips®
50 Adjustable Plastic Seals
50 Tamper Evident Warning Labels
Topp Clip® Labels, 3.75 in x 5.75 in, Roll of 100, XS43-69RE-100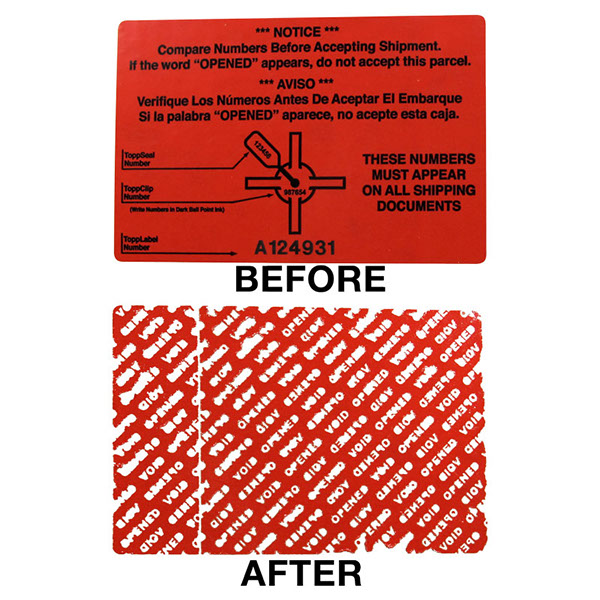 As an option for added security, add multiple Topp Clip® Warning Labels on the pallet. The labels feature pre-assigned serial numbers, which are unique and consecutive. Sold in rolls of 100 labels.

$40.00 Per Roll

Code: XS43-69RE-100
| | |
| --- | --- |
| Label Size | 3.75 in x 5.75 in |
| Weight | 1 lb |
| Material | Polyester Film with Permanent Adhesive |
| | |
| --- | --- |
| Artwork Prep Fee | $35 (One Time) |
| Production Setup Fee | $50/Order |
| Label Price | $0.40/Label |
Heavy Duty Topp Clip® Hole Punch Toolkit, TCP-HD1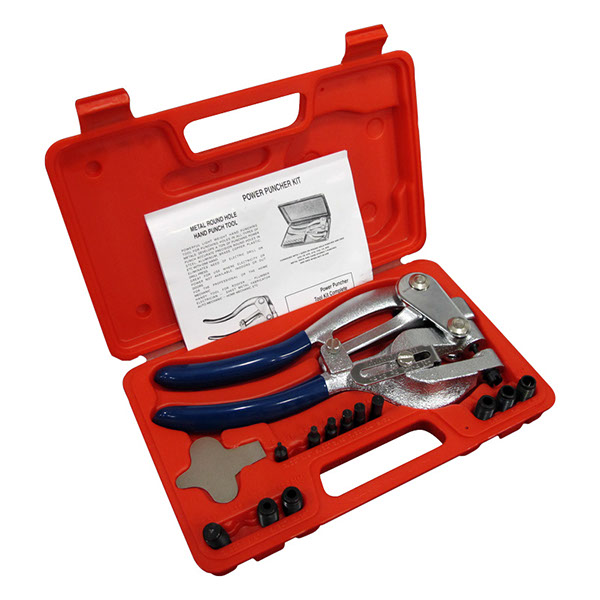 Our heavy duty punch toolkit is for use with Topp Clip® pallet seal system when metal banding is used. Suitable for punching holes through mild steel up to 14 gauge (4 layers simultaneously).
Heavy duty construction for added durability. Extra die sizes provide additional use for punch. Replacement dies are not available.


Code: TCP-HD1
Pricing Information
Qty (Punch)
$/Punch
Total
1
$80
$80
Weight
3 lbs
Die Sizes

3/32 in
1/8 in
5/32 in
3/16 in
7/32 in
1/4 in
9/32 in
Customized Topp Clips
We can customize the Topp Clip® system to include your company name, logo, colors, serial numbers, etc.
Customized Topp Clip® System, ZTC-C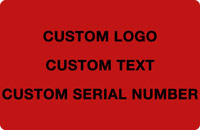 Topp Clip Warning Label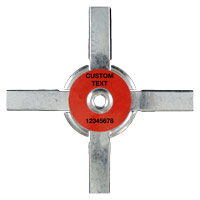 Label on Metal Clip
Pricing Formula $250/Setup + $3.00/Seal
The parts that are customizable include:
Tamper Evident Warning Label
Label on Metal Clip
Standard punch sold separately.
Please call for pricing on addtional customizations -- including the adjustable plastic seal.

Typical Order Pricing
Qty (Seals)
$/Seal
Setup Fee
Total
100
$3.00
$250
$550
200
$2.75
$250
$800
800
$2.60
$250
$2,330
2,000
$2.50
$250
$5,250
10,000
Call
Call
Call
Code
ZTC-C
Min Order Qty
100 Seals Sets
Artwork Prep Fee

$50 (One-Time Fee)

Applies to custom text and/or graphics on clip label and warning label

Production Set Up Fee
$200/Order
Can't Find What You're Looking For? Try our Application Search
For Questions and Ordering Information, Please Contact: