Custom Origination Holographic Overlays
Product Overview
A custom hologram overlay offers the most security to protect your company, employees and customers from fake ID badges. This type of embossed hologram design allows intricate and complex graphics. After creating a custom security-grade origination (dot matrix or 2D/3D) for your company/organization, your unique design is registered with the IHMA global hologram registry.
Our embossed hologram overlays are tamper evident. If removed, the overlay will self destruct showing a 'dots' pattern on the ID badge and in the hologram. This product is design for manual application to the printed ID card -- just peel and stick.
The overlay is constructed in one layer. The hologram is embossed on 2 mil thick polyester film. After embossing, a permanent acrylic adhesive is applied over the hologram. The overlay is then die cut to size (slightly smaller than the PVC ID badge). Total thickness is 3 mils (2 mils polyester + 1 mil adhesive).
We also offer stock holographic overlays, which are a lower cost alternative.
NovaVision is a registered member of the International Hologram Manaufacturers Association (IHMA). We will verify your custom design is new and unique before initiating the project.
If NovaVision is requested to produce a custom holographic overlay, we require proof to substantiate that you are authorized to purchase that product. We independently verify your contact information and legitimacy.
Intended Use of Holograms
Our holograms are designed, tested, and intended for anti-counterfeiting, anti-tampering and promotional applications.
Our holographic products do NOT provide any documented health or medical benefits such as improved balance, sleep, pain-relief, weight loss, smoking cessation, etc.
Our holographic products do NOT provide any documented benefits to improve gas mileage, energy efficiency, cell phone reception, etc.
Our holographic products cannot be programmed to resonate at specific frequencies.
In our opinion, claims of medical benefits or improved machine performance are questionable and scientifically unsupported. Consumers should request an independent study (with blind testing) to verify any such claims and benefits.
We are not aware of any independent studies which validate such claims and benefits. Therefore, we will not intentionally produce holograms for these applications.
Warning to Counterfeiters
If you are not authorized to purchase the product, your contact information may be provided to law enforcement authorities without further notice. This includes any holographic pouch that is identical or similar to any existing State Driver's License or any other government issued identication.
NovaVision cooperates with all local, state, federal and international law enforcement agencies to catch and prosecute fraudulent purchases and counterfeiting.
Counterfeiting is illegal and is defined as any attempt to copy an original with the intent to defraud. It is illegal to purchase a fake identification product, an unauthorized custom hologram, or any counterfeit item which uses a copyrighted brand name or logo.
Custom Holographic Overlays for ID Badges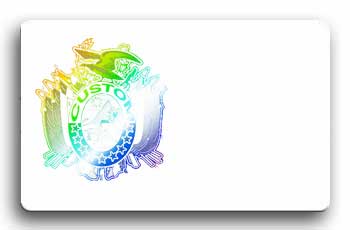 Product Specifications
Unit Price
$0.35 Per Overlay
Size
2 in x 3.25 in
Thickness
3 mil (0.003 in)
Minimum Order Quantity
1,000 Overlays
Service
4 Weeks
Pricing Information For Initial Order
Qty
Artwork
Setup/Order
Overlays
Total
Avg Price/Overlay
1,000
$2,575
$800
$350
$3,725
$3.73
2,000
$2,575
$800
$700
$4,075
$2.04
4,000
$2,575
$800
$1,400
$4,775
$1.21
Pricing Information For Typical Reorders
Qty
Artwork
Setup/Order
Overlays
Total
Avg Price/Overlay
1,000
N/A
$800
$350
$1,150
$1.15
2,000
N/A
$800
$700
$1,500
$0.75
4,000
N/A
$800
$1,400
$2,200
$0.55
Can't Find What You're Looking For? Try our Application Search
For Questions and Ordering Information, Please Contact: