Holographic Foil
Product Overview
NovaVision offers holographic hot stamping foil for use by other printers on security projects. Holographic foils are available in stock designs (random repeating patterns) or in custom designs (random repeating patterns or registered images). Stock foil designs are often available in individual rolls. The minimum order for custom foil is 10,000 LF x 7 inch wide.
Stock holographic foils are an affordable option for small and medium security projects or for quick-turnaround projects. Holographic foils are typically used as an anti-counterfeiting feature on documents, plastic ID cards, event tickets, etc. The hot stamping technology uses heat and pressure to transfer the holographic image to the base substrate.
These stock patterns can also be used on custom products produced by NovaVision. However, our stock holographic foil patterns are not available as tamper evident labels.
Choosing a Holographic Foil
The first major criteria is to confirm if the printer is using a hot stamping or cold foiling process.
Selecting the proper adhesive on the hot stamp foil is an important part of the specification for both stock and custom foil. Adhesives vary depending on:
The application process (rotary or platen)
If a rotary process, the line speed
The substrate type (film, paper, plastic, thermal coatings, etc)
If the finished document will be processed through a laser jet printer
If a transparent hologram, the adhesive must be clear
For custom foil, registered images require the printer to have a foil registration system capable of reading a holographic timing mark, which must be tested prior to the first full order.
If there are multiple registered images across the substrate, we need a detailed layout of the images compared to the substrate.
The roll core size (usually either 1 inch ID or 3 inch ID)
Another consideration is if the foil will be top-printed with inks, which requires a special foil chemistry to assure ink adhesion.
After we understand your requirements, we send sample foil rolls for testing at the printer's facility prior to finalizing the order.
Holographic Foil Design Options
Stock holographic foils are typically a random repeating pattern of a generic graphic or text. Random repeating patterns are more affordable because they provide more design flexibility for a variety of applications. These patterns can then hot stamped to any size and shape (typically round or square).
For added security, random repeating patterns can be used with custom tooling to imprint a company name or logo as a positive or negative image.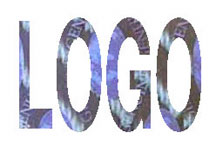 Positive Image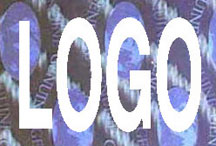 Negative Image
The other holographic design option is to create a "registered image" hologram. A registered image is a single image or logo which requires precise positioning on the substrate to be aligned correctly. Registered images are only offered using custom holographic foil.

Typical Registered Image
Security Considerations
For all custom security foil applications, printers are required to provide documentation to substantiate they are authorized to use the custom hologram image.
We will search and compare all custom hologram designs with the Hologram Image Register (operated by the International Hologram Manufacturer's Association) to verify the design is unique.
After the customer approves the final product, we register your custom hologram image with the IHMA to assure another reputable holographic company does not copy your image.
Intended Use of Holograms
Our holograms are designed, tested, and intended for anti-counterfeiting, anti-tampering and promotional applications.
Our holographic products do NOT provide any documented health or medical benefits such as improved balance, sleep, pain-relief, weight loss, smoking cessation, etc.
Our holographic products do NOT provide any documented benefits to improve gas mileage, energy efficiency, cell phone reception, etc.
Our holographic products cannot be programmed to resonate at specific frequencies.
In our opinion, claims of medical benefits or improved machine performance are questionable and scientifically unsupported. Consumers should request an independent study (with blind testing) to verify any such claims and benefits.
We are not aware of any independent studies which validate such claims and benefits. Therefore, we will not intentionally produce holograms for these applications.
Warehouse Stock Holographic Foils
NovaVision has limited warehouse stock for stock patterns shown below, usually in widths of ranging from 1 inch to 3 inch. For a warehouse order, please call for availability.
Warehouse Order of Stock Holographic Foil

Pricing: $7.00 per MSI ($10.85 per Square Meter)
Widths: typically ranges from 1 inch to 3 inch
Adhesive: Rotary Process
Image Orientation: Typically "feet" or "head" First
Colors: typically Gold and Silver
Ready To Ship: 2 Business Days
Custom Holographic Foil
Custom holographic foil is typically more expensive and requires about 6 weeks to complete. The minimum order for custom foil is 10,000 LF x 7 inches wide; material is slit to order. Custom designs can be random repeating patterns or registered images.
Custom Holographic Foil
Pricing Information
Custom Hologram Design & Recombine
$2000 (one-time expense)
Production Set Up
$500/order
Foil Material
$3.50/MSI
Minimum Order
10,000 lineal feet x 7 inch wide (840 MSI) - slit to width
Total Initial Order (840 MSI)
$2000 + $500 + $2940 = $5440 + shipping from Ohio
Ready to Ship
6 weeks
Repeat Order (840 MSI)
$500 + $2940 = $3440 + shipping from Ohio
Ready to Ship
4 weeks
Measurement Notes
MSI = 1,000 Square Inches
1 Square Meter = 1,550 Square Inches
Can't Find What You're Looking For? Try our Application Search
For Questions and Ordering Information, Please Contact: