High Security Hologram Labels (FIPS)
Product Overview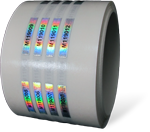 These high performance hologram labels are designed to meet the security aspects (level 4) of the Federal Information Processing Standards (FIPS140-1, FIPS140-2, etc).
We offer two versions of hologram labels for FIPS compliant security labels and seals:
Holo-Guard holograms are suitable for most conventional surfaces such as bare metal, painted metal, many smooth plastics, etc.
Ultra-Guard holograms are our premium FIPS label which is designed for the most difficult surfaces such as low energy plastics, textured surfaces, CARC paint, powder-coated paint, etc.
Our stock high performance labels are available with EXPRESS SERVICE — order by 2pm and the product ships the same day.
In the future, if you may change your product suppliers (or use multiple suppliers) or if your product materials/surface may change, we recommend the Ultra-Guard labels.
Holo-Guard and Ultra-Guard labels are also available in custom sizes, shapes, and/or with custom hologram images. Please call for more information on customized FIPS labels.
Choosing Your FIPS Hologram Label
Holo-Guard labels are recommended for conventional surfaces, such as bare/painted metal, smooth plastics, etc.
Ultra-Guard labels are recommended for difficult surfaces such as low energy plastics, textured surfaces, CARC paint, powder-coated paint, etc. This is the best performing tamper evident label we produce.
In the future, if you may change your product suppliers (or use multiple suppliers) or if your product materials/surface may change, we recommend the Ultra-Guard labels.
We offer free samples for testing. We recommend testing prior to placing an order.
Our FIPS security labels are suitable for indoor applications for at least 5 years and outdoor applications for up to 2 years.
The silver metallic holograms may not be suitable for use on printed circuit boards (or other electrical applications). The silver metallic layer is conductive and may cause issues if in direct contact with the circuitry. For these applications, consider a transparent hologram.
Choosing Label Size and Shape
1. If wrapping the hologram label over a radius corner (minimum 0.25 inch radius), use a long and narrow rectangle shape.
2. If wrapping the hologram label over a square corner (one change in direction), the rectangle label requires a perforation. Locate the perforation at the corner edge.
3. If wrapping the rectangle label around complex shapes (multiple edges or corners), the label requires a perforation located at each change of direction. Locate a perforation at each change of direction.

FIPS Overview - Design, Surface Preparation, & Testing
Our high performance holograms include:
A stock hologram image to combat counterfeiting.
A high-strength adhesive, which bonds to most surfaces and resists attack from chemicals or extreme temperatures.
A robust tamper evident security feature.
The unique serial number (and optional custom imprint) is protected with a clear top lamination for added durability and security.
Cleaning the surface for optimum adhesion is an important aspect of FIPS applications. This applies to passing the initial test and for application of the labels in production.
For optimum adhesion, surfaces must be cleaned with alcohol to remove surface contaminants before affixing the label. For added convenience, we offer optional alcohol cleaning kits.
Your FIPS application must be tested by your independent testing lab . We offer free sample labels for testing prior to ordering.
More information about accredited testing companies and standards can be found on the website for National Institute for Science and Technology, Computer Security Resource Center (www.csrc.nist.gov)
Although our FIPS labels have been tested and approved in many applications, please contact us if you have any problems achieving acceptable results with our FIPS labels to pass the independent testing.
If you need contact information for independent testing labs who specialize in FIPS certification, please contact us. We will provide contact info for at least two companies for you to evaluate.
More Information on FIPS Applications
Qualifications for Same Day Service
No changes to the hologram stickers as shown on this page.
Payment with a validated credit card.
Order quantity is below 10,000 stickers
Optional Alcohol Prep Pads
We offer an optional alcohol cleaning kit. Before applying labels, use alcohol pads to remove surface contaminants which can interfere with optimum adhesion. Also, use to clean up adhesive residue remaining after a tamper evident label is removed.
Intended Use of Holograms
Our holograms are designed, tested, and intended for anti-counterfeiting, anti-tampering and promotional applications.
Our holographic products do NOT provide any documented health or medical benefits such as improved balance, sleep, pain-relief, weight loss, smoking cessation, etc.
Our holographic products do NOT provide any documented benefits to improve gas mileage, energy efficiency, cell phone reception, etc.
Our holographic products cannot be programmed to resonate at specific frequencies.
In our opinion, claims of medical benefits or improved machine performance are questionable and scientifically unsupported. Consumers should request an independent study (with blind testing) to verify any such claims and benefits.
We are not aware of any independent studies which validate such claims and benefits. Therefore, we will not intentionally produce holograms for these applications.
Warning to Counterfeiters
If NovaVision is requested to produce custom security products or branded packaging, we require proof to substantiate that you are authorized to purchase that product. We independently verify your contact information and legitimacy. If you are not authorized to purchase the product, your contact information may be provided to law enforcement authorities without further notice. NovaVision cooperates with all local, state, federal and international law enforcement agencies to catch and prosecute fraudulent purchases and counterfeiting.
Counterfeiting is illegal and is defined as any attempt to copy an original with the intent to defraud. It is illegal to purchase a fake identification product, an unauthorized custom hologram, an unauthorized duplicate security label, or counterfeit packaging which uses a copyrighted brand name or logo. Further, in the USA, legislation is pending to expand the criminal law so that federal prosecutors will have an easier time prosecuting counterfeiters that manufacture bogus product labels and packaging.
Stock FIPS Security Labels

For small projects, Holo-Guard & Ultra-Guard labels are offered in stock sizes and with pre-assigned unique serial numbers, which are available for immediate shipment in our EXPRESS SERVICE program. Therefore, these specific products are sold as designed, without further customizations.
Custom Imprinted FIPS Security Labels
Pricing includes your custom imprinted text and unique serial number range in black or red ink. The pricing and quantities shown are for typical order quantities. We will produce the exact quantity you order using the pricing formula shown. No minimum order quantity.
Can't Find What You're Looking For? Try our Application Search
For Questions and Ordering Information, Please Contact: