Holographic Paper & Board
Product Overview
Holographic paper and board stock can enhance your product packaging, advertising and displays with distinctive and eye-catching graphics.
Improve Shelf Appeal
Increase Consumer Awareness
Increase Product Sales
Holographic paper is commonly used for DVD inserts, magazine covers, magazine inserts, etc.
Holographic board stock is typically used for point-of-sale signage, blister cards, direct mail cards, folding cartons, etc.
Our holographic sheets are compatible with these printing processes:
Offset Sheet-Fed
Screen Sheet-Fed
HP Digital Sheet-Fed
Our holographic sheets are NOT compatible with laser jet or ink jet printing.
NovaVision distributes holographic paper and board stock to commercial printers, who custom print the holographic sheets with opaque and translucent inks.
Stock hologram patterns are available for quick-turnaround projects and are ready to ship within 2 days.
We stock the 4 most popular holographic patterns:
Rainbow
Pillars of light
Lots of dots
Lava
Stock sizes (in inches) are 28x40, 27x40, and 13x19. If smaller size sheets are required for a short-run project, printers can trim the sheets to fit their equipment.
If the product is designated as C2S, the backside is clay coated, which provides better quality of the back printing. If C1S, the backside is a standard litho finish. There is NO adhesive backing on our holographic paper or board stock.
For "first-time" printers, we recommend process testing some holographic sheets prior to printing a large project. Our stock products are available in carton quantities of 100 sheets. Select a sheet comparable in material construction and caliper and print these sheets on the end of another project. Contact your ink supplier in advance and ask for recommendations.
Discontinued items are available in odd lot quantities.
Sheet Samples
Our free samples are sheets that are typically 8.5 inch x 11 inch.
We also offer individual full sheets priced as follows:
Order processing fee: $25.00/order
Offset or Screen -- Price/sheet (28x40): $7.00/sheet
Digital -- Price/sheet (13x19): $2.00/sheet
Shipping & Handling: added at cost or shipped on your account
Allow 3 days for samples to ship
Recommended Handling Instructions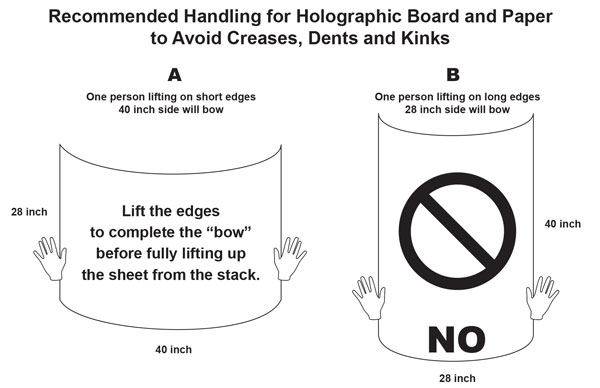 Finished Product Samples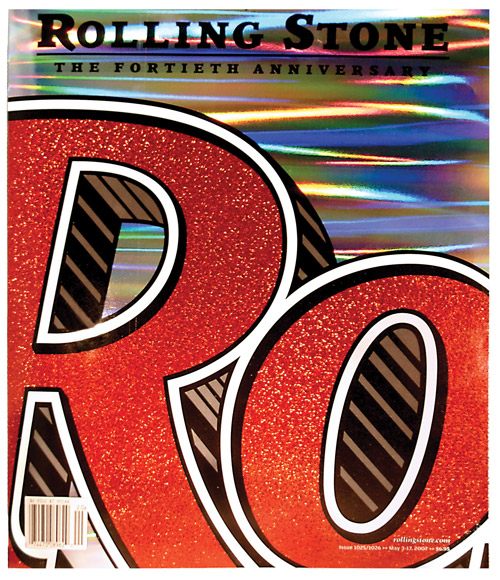 Learn More
Intended Use of Holograms
Our holographic products are designed, tested, and intended for anti-counterfeiting, anti-tampering and promotional applications.
Our holographic products do NOT provide any documented health or medical benefits such as improved balance, sleep, pain-relief, weight loss, smoking cessation, etc.
Our holographic products do NOT provide any documented benefits to improve gas mileage, energy efficiency, cell phone reception, etc.
In our opinion, claims of medical benefits or improved machine performance are questionable and scientifically unsupported. Consumers should request an independent study (with blind testing) to verify any such claims and benefits.
We are not aware of any independent studies which validate such claims and benefits. Therefore, we will not intentionally produceor sell our products for these applications.
Digital Holographic Board (12 pt, C2S)


Code: HB-D1
Rainbow Pattern


Code: HB-D2
Dots Pattern


Code: HB-D3
Lava Pattern


Code: HB-D4
Pillars of Light Pattern
Pricing Information
Sheets
$/Sheet
$/Case
Total
100
$1.45
$145
$145
500
$1.34
$134
$670
800
$1.31
$131
$1,048

Product Specifications
Holographic Patterns
Rainbow, Dots, Lava, Pillars of Light
Color
Silver Metallic
Backside
Clay Coated (C2S)
Sheet Size
13 in x 19 in
Package Size
100 Sheets Per Case
Case Weight
10 lbs (100 Sheets)
Ready to Ship
1 Business Day
Printing Processes
HP DIGITAL Sheet-Fed
Digital Plain Silver Metalized Board (10pt, C1S)


Code: HB-DA
Silver Metallic
Pricing Information
Sheets
$/Sheet
$/Case
Total
100
$1.04
$104
$104
500
$0.95
$95
$475
800
$0.93
$93
$744

Product Specifications
Color
Silver Metallic
Backside
Uncoated (C1S)
Sheet Size
13 in x 19 in
Package Size
100 Sheets Per Case
Case Weight
10 lbs (100 Sheets)
Ready to Ship
1 Business Day
Printing Processes
HP DIGITAL Sheet-Fed
Stock Holographic Board (10 pt, C1S)


Code: HB-01
Rainbow Pattern


Code: R600-471-2840
Dots Pattern
Transitioning to HB-02


Code: HB-03
Pillars of Light Pattern


Code: HB-04
Lava Pattern
Pricing Information
Sheets
$/Sheet
$/Case
Total
10
$7
N/A
$70
100
$4.25
$425
$425
200
$3.50
$350
$700
500
$2.95
$295
$1,475

Product Specifications
Holographic Patterns
Rainbow, Dots, Pillars of Light
Color
Silver Metallic
Backside
Uncoated (C1S)
Sheet Size
28 in x 40 in
Package Size
100 Sheets Per Case
Case Weight
32 lbs (100 Sheets); +75 lbs for pallet
Ready to Ship
1 Business Day
Printing Processes
OFFSET or SCREEN Sheet-Fed
Stock Holographic Paper (72 lb, C1S)


Code: R172-876-2740
Rainbow Pattern
While Supplies Last
Pricing Information
Sheets
$/Sheet
$/Case
Total
10
$6
N/A
$60
100
$1.62
$162
$162
500
$1.30
$130
$650
1,000
$1.08
$108
$1,080

Product Specifications
Holographic Patterns
Rainbow
Color
Silver Metallic
Backside
Uncoated (C1S)
Sheet Size
27 in x 40 in
Caliper
0.0043 in (109 Microns)
Package Size
100 Sheets Per Case
Case Weight
15 lbs (100 Sheets); +75 lbs for pallet
Ready to Ship
2 Business Day
Printing Processes
OFFSET or SCREEN Sheet-Fed
VacuBrite® Metalized Board (10pt, C1S)


Code: A158-SIL-2840
Silver Metallic
While Supplies Last
Pricing Information
Sheets
Cost Per Sheet
Cost Per Case
Total
10
$3
N/A
$30
100
$0.95
$95
$95
500
$0.75
$75
$375
2,000
$0.55
$55
$1,100
5,000
$0.49
$49
$2,450

Product Specifications
Color
Silver Metallic
Backside
Uncoated (C1S)
Sheet Size
28 in x 40 in
Package Size
100 Sheets Per Case
Case Weight
32 lbs (100 Sheets)
Pallet Weight
107 lbs
Ready to Ship
1 Business Day
Printing Processes
OFFSET or SCREEN Sheet-Fed
Can't Find What You're Looking For? Try our Application Search
For Questions and Ordering Information, Please Contact: