Learn More About Holographic Paper and Board
B. Handling
When handling, take care not to use excessive clamping pressure and not to push rolls or cartons over uneven or dirty floors. The holographic surface may reflect rough handling in the form of bruises or dull scuff marks.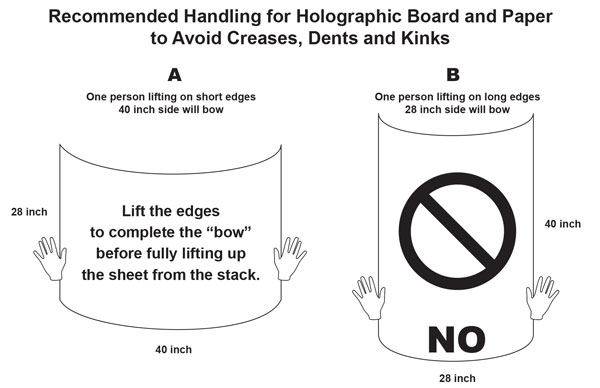 C. Conditioning
Material is wrapped with film to protect against moisture gain or loss.
For best performance, remove the film wrapping and allow the material to adjust to the press room temperature conditions at least twenty-four (24) hours before printing. A range of 65°F to 75°F and 40% to 60% relative humidity is recommended for the press room while running and/or stacking.
D. Printing Process Overview
NovaVision stocks direct metalized material and material which is laminated with holographic film. Both products have special coatings to enhance printability.

We offer these general printing tips and frequently ask questions to highlight key areas. Printers should consult with their ink supplier and press manufacturer for final printing recommendations.

1. Inks
The graphic design determines number of ink layers and opacity. For example, to achieve a shiny, glossy shade, transparent inks should be used. For a solid appearance, opaque inks are recommended. Using both ink types can create a vivid, three-dimensional appearance. Your best resource for selecting printing inks is the ink supplier. Formulations are readily available which are specifically designed for metalized papers or laminated film.

When printing on UNCOATED both sides, inks dry by absorption. When printing on COATED backsides, metallic surfaces or film, inks dry by oxidation.

A final clear coating on the holographic side is recommended to cap printed materials and prevent offsetting. Either aqueous or UV-cured over-coatings are recommended. The final overprint coating should be selected for clarity to minimize any impact on the holographic brightness.

Although conventional inks work well, UV-cured inks are ideal. Potential problems associated with offsetting and drying are avoided by using UV-cured inks. Inter-station UV curing is the most successful way of printing holographic paper and board.

Additional tips for conventional inks on metalized or film surface:

a. Conventional inks dry by oxidation more than absorption. Inks must be made from fully oxidizable materials.

b. Viscosity can generally be used as supplied by the ink manufacturer and adjustments should be made according to the manufacturer's recommendations.

c. The use of mineral oil, paste and gel reducer should be avoided.

d. Ink tacks should be 16 or less using an inkometer tack tester. On multi-station presses, the first station should have a tack of 14 with each successive station delivering inks with successively lower tack levels.

e. Additional driers in the ink are recommended where tolerable to ensure hard drying.

f. Low ink coat weights are recommended to facilitate the drying process
2. Flexographic Printing
Generally, no additional special procedures are required for flexo printing
3. Offset Printing
Offset Ink systems perform best when these guidelines are followed:
Fountain solution: 15 % minimum recommended alcohol content, 25% maximum.
Tack: 14 or less. In multi-station presses, the first station ink should have tack of 14. For each of the succeeding stations the tack should be lowered one point. ph range: 4-5.
Blanket: Conventional low tack; quick release type. Using special blanket hardener at start-up will prevent sticking and reduce picking.
Inks: Foil type inks are recommended
Wet-trapping: Ink can be wet trapped on metalized paper for multiple color printing. This is possible because of metalized paper's absorption qualities.

When printing web offset, excessive heat (104F maximum) can adversely affect the quality of the hologram; also certain press controls may give erroneous reading when reflected onto the holographic material.

Small 11 inch x 17 inch offset presses could be a concern because of less control with the fountain solution rollers.
Tips for water damping:
Where possible, plain water should be run in the fount.
Fount solutions should not be too acidic (ph 5.5) and should be used sparingly as excess use will inhibit the drying process.
Processes with low print take-off may require the addition of up to 12% isopropanol to reduce the surface tension and minimize the amount of water delivered to the paper surface.
Additives may be used in the damping solutions to aid the drying process. All additives should be used according to the manufacturer's recommendation.
Sheet damping must be even across the sheet especially avoiding excess water at the edge of the sheets.
4. Gravure
Gravure inks on holographic metalized paper may be solvent, UV cured or water base in formulation. Inks must be made from fully dried materials. The viscosity can generally be used as supplied by the manufacturer and adjustments should be made according to the manufacturer's recommendations. Large amounts of DOP plasticizer in gravure inks may interfere with proper ink adhesion. For best results, test adhesion of ink systems.
5. Screen Printing
Avoid excessive heat (maximum 104F) which may accumulate in printed stacks. Excessive heat may cause matting or diminish the holographic effect. Tests should be conducted to determine the drying time and temperature necessary to give acceptable line speeds without diminishing the holographic effects.
E. General Printing Tips
"Make-ready" can be done with more economical coated papers. Holographic papers and boards can be "tailed" onto a white paper/board run to create product samples. Inter-station UV curing is the most successful way of printing holographic paper and board.
During printing, material temperatures exceeding 104F can diminish the holographic appearance. The holographic pattern is formed within a polymer coating, which can be damaged by excessive heat.
Since sheet products have a very smooth surface, sheets may cling slightly. If necessary, fan or air the stock before feeding onto the press.
The air velocity should be adjusted for proper floatation to prevent the sheet from rippling or creasing.
Using de-curling units can guard against curl sometimes caused during the printing process.
Anti-Offset sprays and powders should be minimized to reduce the possibility of damaging the holographic surface, especially metalized paper. Too much powder will scuff, dull and rough the surface. To reduce offsetting of inks, use small amounts of drying powders. A 45-micron particle size, using cornstarch and tapioca powder is suggested.
For conventional inks, before applying varnishes, allow inks to dry at least 24 hours. Typical polycompound varnishes, such as Algen varnish AOV409, work well on metalized paper.
To reduce stacking pressure, use lifts of up to 2,000 sheets. Lifts also help the sheets dry more efficiently. For conventional inks, stack heights must be kept to a maximum of 17" to avoid offsetting. Do not double stack skids. Occasional "winding" of the stacks promotes drying.
Avoid excessive heat to build up in the stacks as this may cause matting or diminishment of the holographic paper and board's effect. A range of 65°F (18°C) to 75°F (24°C) and 40% - 60% relative humidity is recommended for the press room while running and/or stacking holographic paper and board.
Stretch-wrap the holographic paper/board between printing and converting processes to minimize moisture variations, which will minimize curling.
Die Cutting
Lubricating the die blade with a wax-impregnated separator will keep the blade sharp and prolong its life.
Glue
Glue with a pH of 9 or lower. Metalized paper labels will perform on most standard gluing equipment.
Frequently Asked Questions
1. What causes sheets to curl?
Moisture gain or loss causes material to curl. A humid environment can cause an 'up-curl'; lower humidity can cause a 'down-curl' on the material. The potential for curling is higher for material which is not clay coated on the back side. For best performance, allow the metalized paper to adjust to the press room's temperature conditions for 24 hours before printing. A temperature range of 65° to 76° Fahrenheit and a 40 to 60% relative humidity condition are recommended for the press room while running, finishing and storing this paper. For sheets shipped in cartons, lay paper flat and secure with bands to prevent curling.
2. How can I test my press to see if I have printing issues?
For "first-time" printers, we recommend process testing some sheets prior to printing a large project. Our stock products are available in small carton quantities of 100 sheets. You can print these sheets on the end of another project. Contact your ink supplier in advance and ask for recommendations.
3. What is the significance of the grain direction?
Paper and board stock material is stronger in the grain direction. Knowing which dimension is the grain dimension is an important consideration for light weight papers (75# and 85#) to minimize tearing the paper during printing on using the finished product. Grain direction is less significant for thicker material.
For laminated paper and board stock, the grain direction is irrelevant, since the film lamination provides added strength in all directions.
Grain direction is noted for sheets with an underline on the grain dimension. For example, 28 inch x 40 inch sheets are noted as 28x40; the underline indicates that the grain direction is the 40 inch dimension.
4. How does the holographic surface affect the sheet material properties?
For direct metalized products, the metalized holographic surface provides improved gloss, enhanced appearance and a silver reflective background. It does not affect the physical properties (tear, tensile, burst strength, stiffness, etc) of the sheet. For film laminated products, the film also enhances the physical properties of the sheet.
F. Additional Ink Guidelines For Vacumet HoloPRISM® Products
Vacumet Corp. has an extensive technical team capable of supporting any converting operation. Vacumet's broad range of expertise includes research and development, quality engineering and operations to support customer requirements. This team has experience in all commercial print technologies, laminating, holography, coating and general converting. We have recapped Vacumet's ink recommendations on this page. For more information on printing and processing Vacumet products, we recommend you visit their site at www.vacumet.com
1. Flexographic and gravure ink systems should be recommended by the ink manufacturer.
2. For lithographic printing, Vacumet recommends the following:
2.1 Ink - Inks for synthetic/non-absorbent stocks are recommended for optimum results on metallized papers. Inks formulated with higher solids are recommended so ink film integrity, adhesion, and abrasion characteristics are achieved. This is for all inks including opaque white.
2.2 Ink Tack - Inks should be tack rated medium for sufficient trapping. The first color should be between 18 to 20 at 1,200 rpm or 11 to 14 at 800 rpm. Tack of subsequent colors should be dropped one unit to achieve good trapping percentages.
2.3 Fountain Solution - Fountain solution must be mixed fresh and carefully maintained due to the non-absorbent nature of the metalized surface. The minimum amount of ink and water needs to be applied. Contaminants from paper, ink, and wash up solution can greatly affect the wetting and cleaning properties. Vacumet metallized papers are fully compatible with alcohol and alcohol substitute fountain solutions.
2.4 pH - The fountain solution should not be too acidic so that drying of the ink is not hindered. A pH of 4.5 is highly recommended.
2.5 Ink Holdout - Due to the non-absorbent substrate, ink holdout is maximized. This outstanding feature allows for many graphic effects to be achieved with combinations of opaque white for backing up images, leading to crisp contrasts which are ideal for 4 and 6 color work.
2.6 Coatings - Aqueous and UV coatings are compatible with metallized papers. Coatings enhance gloss and provide protective properties against rub and abrasion.
Aqueous coatings need to be specifically designed for use on metallized or foil papers so the ink film is allowed to set prior to final dry of the coating. This will avoid "mud-cracking." Inks should be fully dried prior to UV coating so adhesion and uniform lay of the coating is achieved, usually 48 - 72 hours after printing. For all coating recommendations, please consult your coating and ink supplier.
2.7 Blankets - Printing blankets should be conventional, designed for quick release.
2.8 Dryography - Dryography is an alternative method of traditional offset printing that requires special plates, inks, and rollers but uses no fountain solution. Because the challenge of balancing ink and water is removed, waterless printing provides a brighter, more stable four-color reproduction with higher image resolution. Dryography may also enhance color trapping and reduce problems with process color dominance, such as flesh tones that appear too yellow or red in cast.
3. Print the un-metalized side first.
4. When printing directly on the metallic surface without an opaque white base coat, there are no special precautions necessary for a superior printed finish.
5. When printing conventional inks over a dry trap, allow at least 24 hours before the second pass for adequate drying.
6. Printed sheets or rolls should always be protected from moisture changes by wrapping in poly film. This is true between passes of a multi-pass job as well as after printing and converting.
7. Temperatures exceeding 104F during printing or while in storage can diminish the holographic effect.
For more details, please visit: www.vacumet.com
HOLOPRISM is a registered trademark of Vacumet.
This information contains basic guidelines for printing and using holographic material. NovaVision does not warranty any information provided here as to it's correctness. Nova Vision's website is intended to highlight general tips for printers. This information should always be used along with recommendations of the ink supplier and press manufacturer. NovaVision communicates these tips as suggestions and guidelines and assumes no liability for any loss or damage resulting from any acts or omissions based on this information provided.
G. Features & Benefits for Holographic Packaging
Features:
Diffracts light to create an eye-catching effect

Variety of patterns for more design flexibility

Easily printed and converted

Integrate with printed graphics for a dynamic effect
Benefits:
Attractive packaging enhances the product image and brand

"Eye-catching" packaging creates more shelf appeal

Differentiates product for higher market share

Holographic packaging sells more product
H. Choosing Material for Your Application
Product & Typical applications:
Holographic Paper
40 lbs./ream (65 gsm) -- Gift wrap, face stock for laminates (cartons, boxes, pop displays).
42 lbs./ream (68 gsm) -- Beverage and general purpose label applications. When appropriate, these products are available on partial wet strength and full wet strength base papers.
50 lbs./ream (82 gsm) -- Beverage and general purpose label applications.
55 lbs./ream (90 gsm) -- General purpose and beverage label applications, pressure sensitive applications.
60 lbs./ream (98 gsm) -- Face stock for laminates (cartons, boxes, point-of-purchase displays), general purpose label and pressure sensitive applications.
70 lbs./ream (114 gsm) -- General purpose label applications, decorative bags, magazine covers and advertisements.
80 lbs./ream (130 gsm) -- Posters, magazine covers and advertisements.
100# text -- book cover, DVD inserts, magazine covers, sports programs
Holographic Board Stock:
10 pt (230 gsm) and 12 pt (275 gsm) -- Point-of-purchase displays, tobacco packaging, blister cards, greeting cards, trading cards
14 pt (300 gsm) - blister cards, fine trading cards, very light packaging boards (small cosmetics, etc)
16 pt (350 gsm)-18 pt (375 gsm) - Ocards, packaging (moderate size), golf ball boxes
22 - 24 pt - large folding cartons (cereal, electronics, etc)
24 pt+ and wet strength for beverage containers.
Notes:
Ream = 500 sheets (24 inch x 36 inch)
Grams/sq meter are approximate for board stock
I. Why Choose NovaVision's Product?
Free samples
Free Technical Support on printing issues
Ready to ship in 2 days
Small order quantity (100 sheets) for trials
Competitive Pricing