Holograms For Collectibles
Product Overview
Two hologram stickers with matching serial numbers are commonly used to authenticate collectible merchandise and memorabilia. Typically, one sticker is used to authenticate the collectible product and the matching hologram sticker is used on a certificate of authenticity.

The products on this page are the most popular hologram stickers priced as a set of two matching serial numbers.
In addition to the images listed on this page, most of the hologram stickers we offer can be produced with matching serial numbers. For the full selection, visit our Custom Imprinted Hologram Stickers and Stock Hologram Stickers pages.
Choosing A Size & Shape
Circles are easier and quicker to manually affix. If slightly mis-aligned, the circle still has a professional appearance.
If wrapping the hologram label over the edge of a box, use a long and narrow shape (do NOT use a circle or square shape). The narrow width seals the edge of the box; the longer length is applied equally to the sides of the box. The ideal shape is a barbell, but a rectangle is equally effective.
If wrapping the hologram label over a sharp, narrow edge (edge of a CD case, coin case, etc) we recommend the barbell or a long and narrow rectangle.
For contoured surfaces (baseballs, football, etc) choose an oval shape.
If using a laminated label, it will require a perforation located at each change of direction. For wrapping the label around complex shapes, a custom label may be required with a perforation at each change of direction.
Larger holograms have more visual impact.

Holograms with Matching Numbers
Although the most common request is for sets of 2 matching numbers, we can produce any desired number of stickers with matching serial numbers.
Depending on the image selected, hologram stickers with matching serial numbers are provided in two formats:
Two Lanes: Labels are side-by-side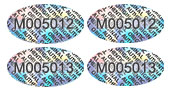 One Lane: the first two labels have the same number, the next two labels have the next highest number, etc.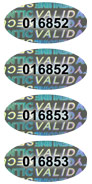 Anti-tampering Protection
For the customized imprint, our standard process is to print custom text, logos and serial numbers on the surface of the label using thermal transfer resin ribbons. The thermal inks are durable to mechanical abrasion, scratching and most liquids. However, thermal printed inks can be removed with certain solvents such as gasoline, alcohol, or lotions containing alcohol.
Although the surface imprint is durable for most applications, we also offer an optional clear film lamination to fully protect the custom imprint from all types of chemical exposure. Please call for special pricing for laminated labels.
All of the stickers featured for collectibles are tamper evident. If removed, the hologram image will self destruct.
| | |
| --- | --- |
| | |
| Before | After |
There are additional considerations for applying labels to archival documents. CLICK HERE for more info on archival documents.

Intended Use of Holograms
Our holograms are designed, tested, and intended for anti-counterfeiting, anti-tampering and promotional applications.
Our holographic products do NOT provide any documented health or medical benefits such as improved balance, sleep, pain-relief, weight loss, smoking cessation, etc.
Our holographic products do NOT provide any documented benefits to improve gas mileage, energy efficiency, cell phone reception, etc.
Our holographic products cannot be programmed to resonate at specific frequencies.
In our opinion, claims of medical benefits or improved machine performance are questionable and scientifically unsupported. Consumers should request an independent study (with blind testing) to verify any such claims and benefits.
We are not aware of any independent studies which validate such claims and benefits. Therefore, we will not intentionally produce holograms for these applications.
Learn More
Hologram labels cannot be scanned or photocopied and are a proven method to combat counterfeiting. They can also create a unique and attractive complement to your existing packaging and product. For more information about holograms, click on the following links:
For Questions and Ordering Information, Please Contact: